Two Ways to Get MP3s Onto Your Device
1. Download to a computer, import to iTunes®, then sync your device.
Each MP3 album downloads as a .zip file. Double-click to unzip. Windows 10 users: right click and select Extract All.
Drag the unzipped folder from your desktop right onto the iTunes® window. Or, choose File > Add to Library or Add Folder to Library, locate the file or folder, then click Open.
Connect your device to the computer and sync, which copies the mp3s to your device's iTunes® Library.

Note: The only way MP3s can be added to iTunes® is by syncing your device.
Pro Tip: Create a playlist for each album so all the MP3s can be easily accessed.
2. Download directly to your device.
Download the app called "Files," available in both the iTunes® Store and Google Play.
Download the MP3s you want to import.
Open the "Files" app and select "Downloads."
Tap the Zip file icon, then tap the new folder that opens.
Tap any track to play.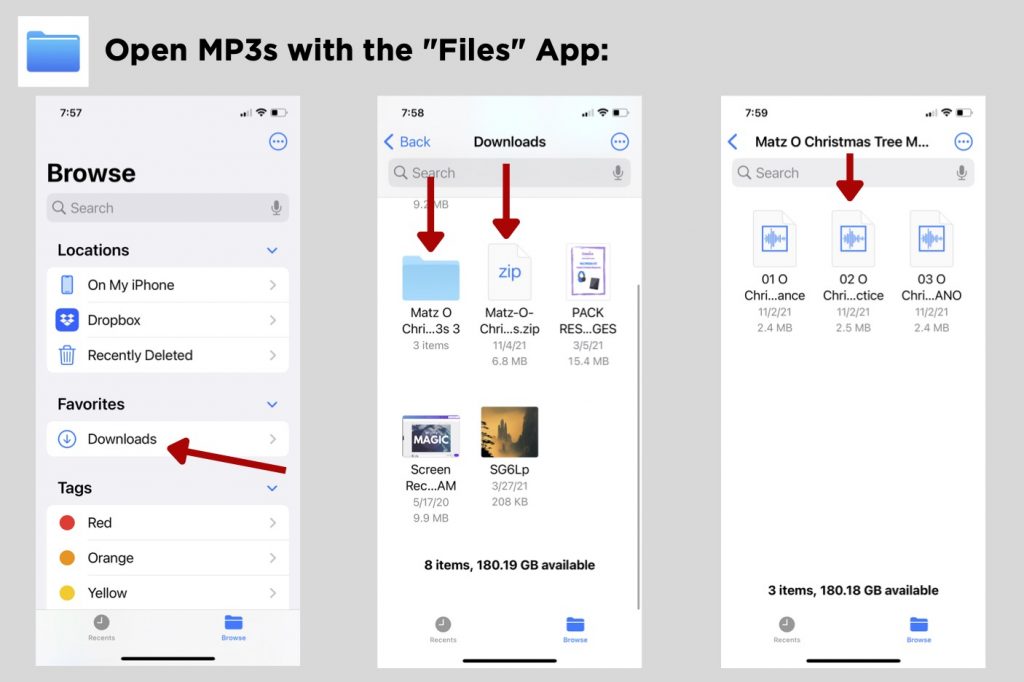 How to Adjust the Tempo of MP3s
Download the app "Amazing Slow Downer Lite," available in iTunes® Store and Google Play.
From the "Files" app, tap the Share icon and scroll to select "ASD Lite."
Tap "Import Song," then "Browse" to select the MP3.