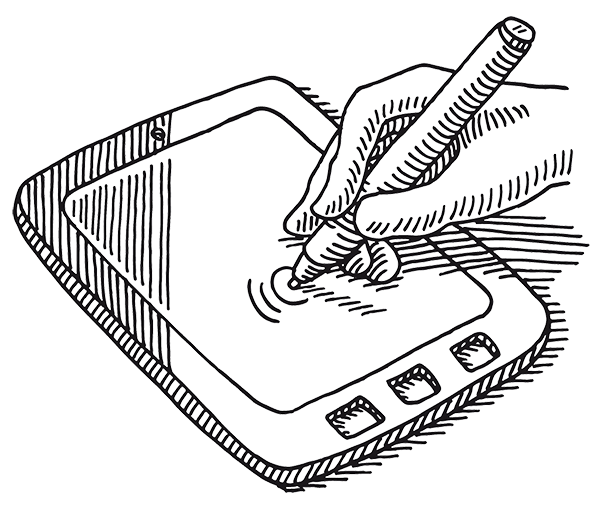 The Interactive Piano Method® contains PDF music scores that can be printed and/or downloaded to a computer, iPad®, or other type of tablet.
You can also download and save the entire Lesson Book as a PDF!
Writing on a music score is obviously important for teachers and performers alike. We need to circle various elements in the score, add fingerings, etc. You can download all the PDF music scores included in this piano method to any tablet, such as an iPad®. This allows you to use a variety of apps to "write" on the music with your finger or a stylus. (This is often referred to as "mark-up" or "annotation.")
Another feature available in many apps is hands-free page turning, in which a Bluetooth (wireless) pedal is paired with a tablet. Pressing the pedal turns the pages without lifting fingers from the piano. Page turns are also easily done by a tap or swipe of the screen.
Some of these "sheet music reading" apps are free, while others are for purchase or have in-app purchase capability to import and mark-up PDF music scores. One free app that I recommend is piaScore, which can be found in the iTunes® App Store. For more information, see piascore.com/faq
I also highly recommend SuperScore, a free app with PDF import as a purchased add-on (only $4.99 USD), as well as many other interactive features. Both of these apps also support hands-free page turning.
How Do I Get the Interactive Piano Method® PDFs onto an iPad®?
While online with the iPad® (in Safari®), simply tap on the PDF link to download. The PDF will automatically come into view.
Tap the small box with an arrow pointing upwards (this is the "share" button).
From there, you can scroll through and choose from a variety of apps installed on your iPad®. If you have installed one of the apps mentioned in this section, select "Copy to piaScore" or "Copy to SuperScore."
The PDF will then be saved to that app, so you can write on it with a stylus! If you do not have apps with PDF markup capability installed, simply choose "Copy to iBooks."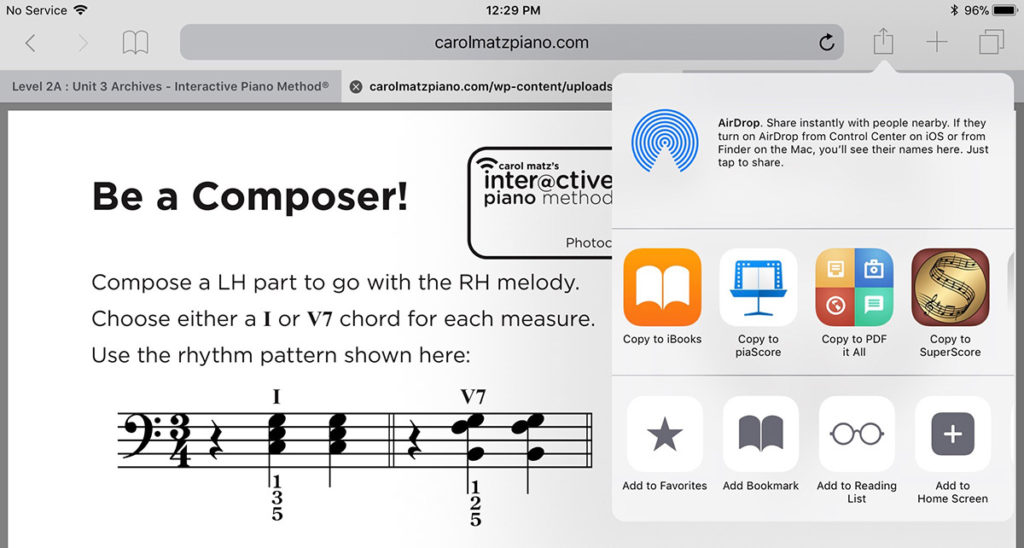 Note: in older versions of the iOS, you may need to tap the screen first in order to select "Copy to…" You might also see "Open in…" which has the same function.
Important: Once you download a PDF to your iPad, you must SAVE it by copying it to an app. This is especially important for the Lesson Book PDF, since your downloads are limited.
iPad®, iTunes®, and Safari® are trademarks of Apple, Inc., registered in the U.S. and other countries.