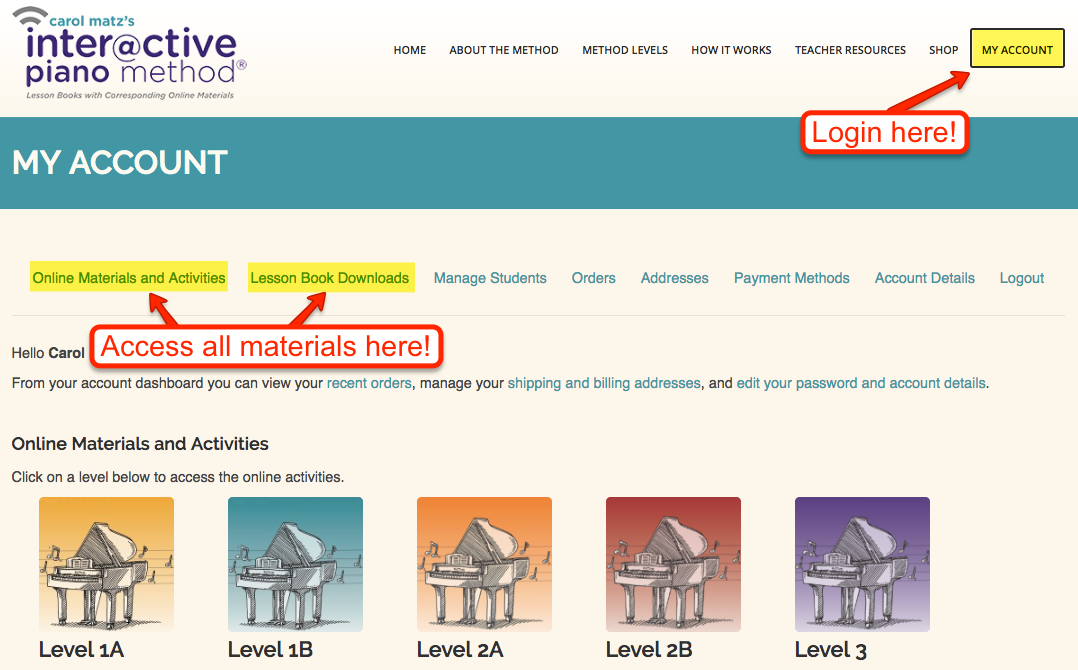 How do I access the Online Activities, PDFs, MP3s, and Interactive Practice Log?
Click on "My Account" and choose "Online Materials and Activities." Once you select a level, you will see a main level page (see below) with access to everything for that level.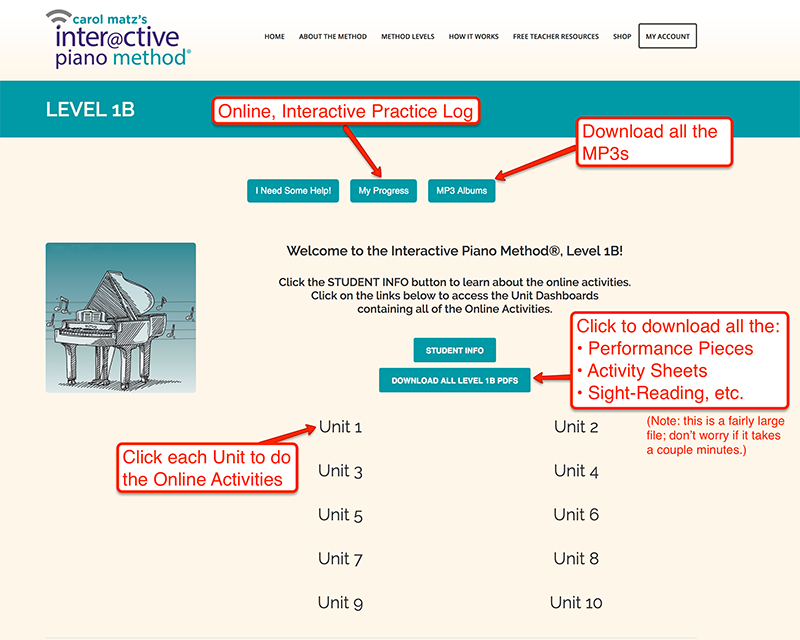 As a teacher, can I purchase levels for multiple students?
Yes! Once you have created your own account, you can order as many copies as you like, for as many students as you need, all at once! You can even stock up on levels and assign them to students any time in the future (with no expiration)! For more information, see How to Order & Manage Students.
I'm a teacher and I made purchases for my students. How can they access the Lesson Book PDF and Online Activities?
If you made the purchase for the student, the parent and student will receive an email with their username and a link to login. For more information, see the How to Order & Manage Students page.
At checkout, why does it say a parent's email must be used?
The website considers each email address to be an individual "user." It keeps track of the student's progress with the activities, stores their answers, etc. Siblings must each have their own account, using a second parent email address. For families with multiple siblings, there is a special feature ("Add/Edit a Family") that can be used to register multiple siblings using the same parent email address.
How do I log in to view my orders and access my materials?
After you place your order, you will be emailed a receipt (from "Interactive Piano Method"). The receipt contains a link to download the Lesson Book PDF, plus a link to access the Online Materials and Activities.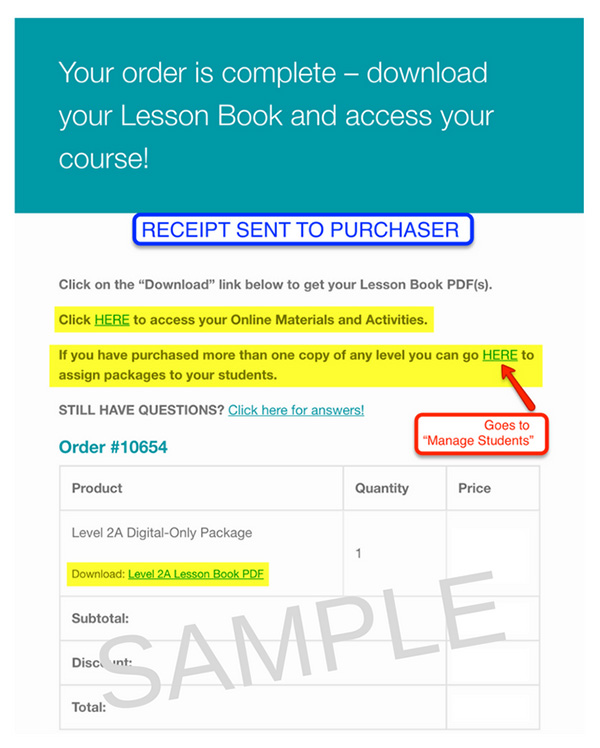 → If it is your first order at carolmatzpiano.com, you will also receive an email that contains your username, as well as a link to log into your account.
→ Once logged in, you can access all the Online Materials and Lesson Book PDF anytime by going to carolmatzpiano.com and clicking on "My Account" (in the upper right).
What should I do if I can't find the emails containing my login or the links to access the materials?
→ Be sure you are checking the same email address that was used to create the account.
→ Please CHECK YOUR SPAM OR JUNK FOLDER!
→ NOTE: if you're using Gmail, check under the "Promotions" tab. Also, if you click "More" on the left-hand column, you will see a Spam folder.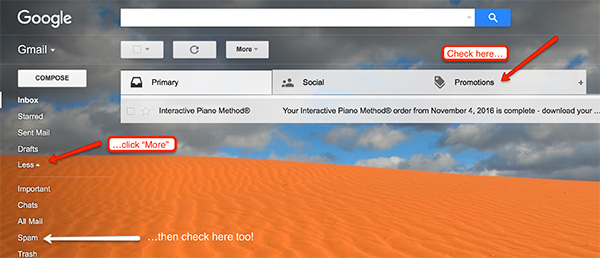 What should I do if I forgot my password?
Go to "My Account" and when prompted to log in, enter your email address or username, and click "Lost your password?" Students or parents can also do this at any time.
NOTE: Students who are registered as part of a multi-sibling family (using the same email address) cannot use this feature. In this case, the student's teacher should be contacted for the lost or forgotten password.
When prompted to create a password, it says my password is too weak. What should I do?
Be sure your password is long enough (at least 8 characters). Also, use at least one uppercase letter, numbers, and a special symbol (exclamation point, question mark, etc.) Once you reach a "medium" strength, you will be allowed to use that password. Please realize this is for your own protection, due to the prevalence of online hacking. A strong password is recommended.
I purchased multiple copies of a level; however, in the "Manage Students" Overview, it doesn't reflect the full number purchased. Why is this?
On checkout, you'll see that any packages over and above your own personal copy can be assigned to a student. You must have a copy of a level in your OWN account (even if it's a free promo copy) in order to purchase multiple levels for students.
Sign up for frequent teacher specials and discounts by clicking HERE.